Need a haircut? Are you going to New York City Tomorrow?
KFC is currently promoting its Famous Bowl and the new Spicy Famous bowl, which are currently on sale for $3 each.
To help celebrate this promotional price, a press release notes the fast food chain teamed with hairstylists to create five "stylish, modern-day takes on the bowl cut hair style."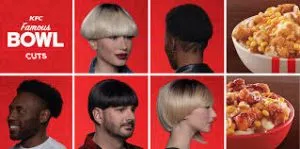 And tomorrow you can sign up for a time slot to get your very own KFC Bowl Cut for free. The free haircuts are only being offered in Brooklyn, New York at a specific location.
Those who opt to get one of the haircuts will receive a gift card for a KFC famous bowl and might even be photographed for KFC's Twitter account.