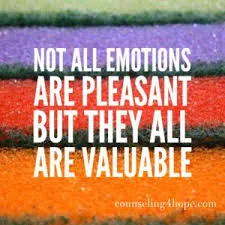 Negative emotions can be described as any feeling which causes you to be miserable and sad. These emotions make you dislike yourself and others, and take away your confidence. Emotions that can become negative are hate, anger, jealousy and sadness. Yet, in the right context, these feelings are completely natural.
Negativity is a motivator. No one changes because he or she is feeling good. We change when we feel something is wrong and making us unhappy and we can't bear it any longer. Negative emotions prompt us to act upon our current circumstance and generate positive changes, Such as anger –

But it is important to tell ourselves that we are human beings who feel both positive and negative emotions. The key to a better life is to understand when and how to use our emotions properly, in order to build more authentic, resourceful versions of ourselves, and more fulfilling versions of our lives.
Dr. Julie Gowthorpe, RSW
LISTEN HERE